Being sick with the flu SUCKS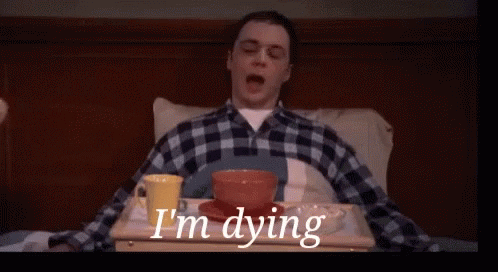 I try to keep my kids and my family as healthy as possible to avoid getting sick and I succeeded over the holidays. However, last week my daughter woke up with a fever and lack of energy.
It was really hard to see this energetic, full of life, free-spirit 8 year old napping for  hours and barely being able to sit up. She didn't want to do anything other than sleep. So here's what you did and you can do the same when you or your kids are sick with the flu. 
First of all, I kept her as comfortable as she wants and followed her lead.
I encouraged her to drink more water and her body was asking for fluids anyway so she didn't really complain about that. She didn't want to eat and that was fine. 
Then, I monitored her fever closely and put a cold towel on her forehead to keep the fever from rising. I was also giving her elderberry syrup (3-4 times day), in addition to oscillococcinum every 6 hours. 
I only medicate with Motrin and/or Tylenol for the fever when it's 103 or higher and/or if she's too miserable. She took Motrin 2 times on Saturday and 1 time on Sunday. 
I also scheduled a doctor's appointment for Monday. I wanted to make sure that all is clear and it's just the flu which it was. Her lungs and ears were clear and she was tested positive for the flu.
However, she didn't need the tamiflu (thank God) coz it's been more than 48 hours. Tamiflu works best the first 48 hours so I was SO relieved that her body has been fighting the flu with the natural remedies I was giving her. 
Next, I kept her home from school and from dance. 
Finally, she was eating soups, fruits, and veggies. We stayed away from sugar and gluten free breads. 
Here are a few steps for you: What do when you get sick with the flu
1- Go to the doctor and make sure it's just the flu and nothing else is needed. I don't like Tamiflu BUT this is a personal choice and you do what you want.
Your body needs one week to recover from the flu whether you take traditional meds or not. You can definitely support your body with natural remedies. 
2- LOTS of rest…I know easier said than done but if you don't rest you're gonna get worse so just rest. Sleep a lot, read a book, stay in bed, watch TV, etc…forget about the laundry, and all the chores you have to get done. Get better and then you can get them done.
Have a hard time doing that? Ask your husband or significant other, or your older kids to help. ASK! Don't assume they're gonna know what to do. 
3- Take Elderberry syrup at least 3-4 times a day along with the oscillococcinum every 6 hours.
4- Drink lots of water (NOT gatorade)
5- Eat fruits, veggies, homemade soup with broth and veggies(NOT canned soups-you can make a BIG Instant pot full of soup that'll last you for a few days) 
6- Don't hesitate to visit the doctor's office as many times as you can if you still don't feel well. Don't risk it. I took my daughter twice just to make sure all was well. 
Now I'd LOVE to hear from you in the comments. What are some tips you have regarding getting sick with the flu. 
Want more strategies to be independent with your health?
Become a Bzhealthymama VIM ( Very Important Mama)
Want more strategies to be independent with your health?
Become a Bzhealthymama VIM ( Very Important Mama)